WHAT'S YOUR STYLE?
Your swimwear says a lot about your personality. The playful Panthera collection or the classy Starboard collection, which is your perfect swimwear match? Take the quiz and find out!
IN YOUR IDEAL CAREER PATH, YOU WOULD BE…
WHAT'S YOUR IDEAL SUMMER HOLIDAY?
WHICH OF THESE SONGS IS YOUR PERSONAL ANTHEM?
HOW DO YOU PREPARE FOR TRAVELING?
AT YOUR FAVORITE COCKTAIL BAR, YOU'RE ORDERING…
PARTY TIME! WHAT SHOES ARE YOU WEARING?
WHAT KIND OF LOVER ARE YOU?
WHO ARE YOU MOST LIKELY TO BE FRIENDS WITH?
WHICH LIFE MOTTO SPEAKS TO YOU THE MOST?
RESULT
YOU ARE ONE OF THE WILD ONES!
You are playful, fearless, and you LOVE to show off your wild side. Spontaneous plans are your favorite plans, and you're the life of every party. What better swimwear collection to complement your feisty femininity than my sensual Panthera collection!!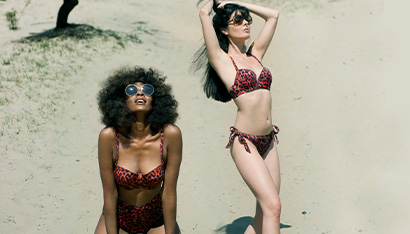 RESULT
YOU SET SAIL FOR THE STARS!
You are on your way to make your dreams come true, all of them. And you like a dash of glamour on your way! Classy is your middle name, and the way to go is up. My nautical Starboard collection is the perfect swimwear collection for you to channel your feminine power. Full steam ahead!